Brewing Up A Dream–Handcrafting a Tenacious Culture
Tuesday, March 21, 2017

To View a Complete Recording of This Class Click Here
Join Lindsey Roeper, Dream Facilitator at Rivertown Brewery & Barrel House, as we touch, taste, feel and learn about all the ingredients that go into making beer.
In addition to the physical ingredients, like malt, hops, water & yeast, we will also learn about the more intangible ingredients that go into making beer, tasting beer, varieties of beer and building a business from the ground up.
Included at the end of the presentation will be a tasting of 3 craft Rivertown beers (bring your ID's).
Discover the art and appreciation of Craft Beer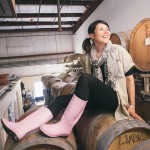 Lindsey Roeper

To attend this class virtually click here after 6:50 pm the night of the class.